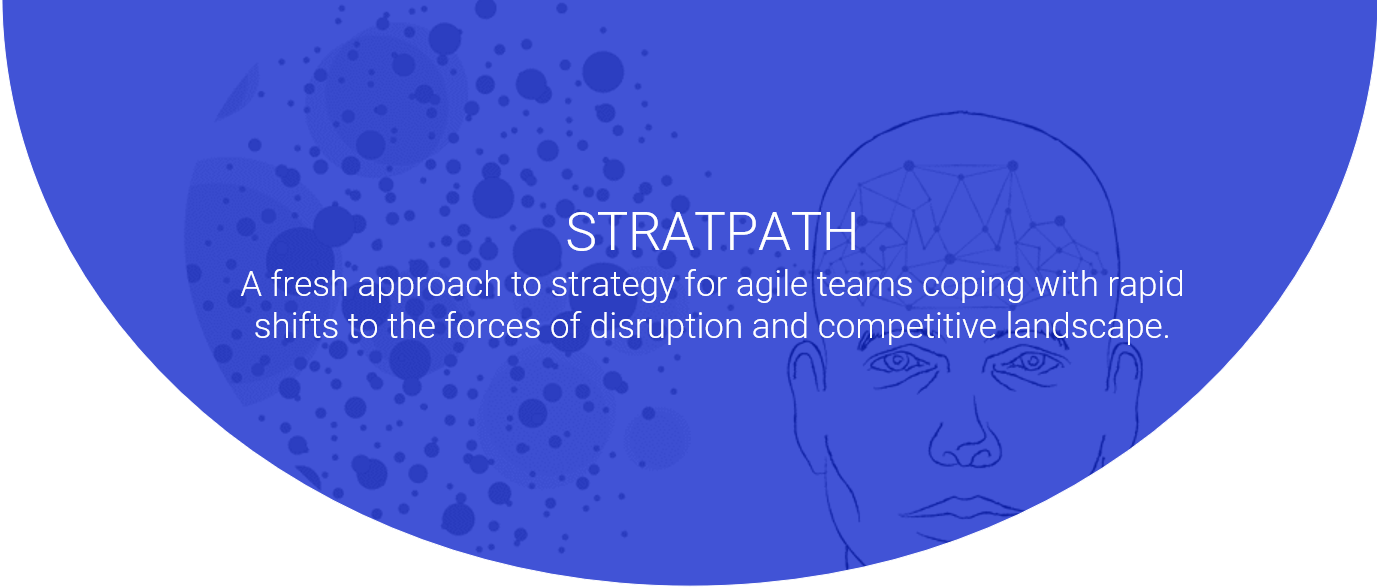 STRATPATH is a simple, cost effective way to embed Agile Strategy into your organization.
It's a remarkably effective way (time & cost) to rise above the tyranny of the urgent, absorb fresh learnings and adjust your strategy & execution to stay ahead of the change-curve (and the competition).
'Agile Development' super-charges execution, but in faster things move, the greater the need to adjust strategy to keep pace with the learning-curve. THE PROBLEM… 'Agile' all but ignores strategy and old-school strategic planning is too slow and cumbersome to keep up.
A FRESH APPROACH… Agile Strategy was designed for this reality… it's a disciplined but light-weight approach to course-correcting your Horizon-3 strategy quickly when customer learnings, competitive reactions and shifting disruptive forces trigger a fundamental change in your space.
Regular sessions give you a safe-zone to focus on Horizon-3 thinking. The continuity of an ongoing approach ensures an informed sounding board, honing the quality of your thinking while all but eliminating wasted time explaining nuance. Session frequency is matched to speed that you're operating at which reduces friction and helps accelerate execution.
BENEFITS… STRATPATH helps you stay ahead of the competition.
It's easy to implement, time/cost efficient and the ROI is off the chart:
. reduce risk
. spark fresh opportunities
. accelerate execution (by increasing internal alignment)
WHAT YOU GET - this is an annual program, but the frequency (and cost) is customized for the speed and pace of change that you operate at. All programs include an annual thesis/strategy session for the senior team ($7500.- value) plus a series of 1-on-1 sessions throughout the year. 1-on-1 sessions are typically a half-day and each session triggers an artifact that can be socialized with the team… the cadence is up to you but typical approach is either monthly or quarterly:
PROGRAM INCLUDES:
. Facilitated 1-on-1 Workshops (either monthly or quarterly)
. Annual Thesis Recalibration & Strategy Implications – (full day – leadership team)
. Adhoc support (email / call – hot topics)
. Emerging Force Briefings (2 to 3 per year - like having an analyst on the team)
. Strategy Tools (ForceMap + EDGEFORCE Forums etc.)
. STRATPATH Events (Annual THINK-SUMMIT (Whistler) + adhoc remote sessions)
COST info available on request (don;t worry… you can afford it)
HORIZON-3 FOCUSED
Transformative innovation isn't about today's deadlines… it's future focused. It's critical to stay ahead of the change-curve, but Horizon-3 activities can cause friction for current execution teams so they need to be properly compartmentalized.
As we see it, our job is to help you shed noise, build alignment around a Horizon-3 thesis and strategy, and keep that alignment as the organization course-corrects in response to inevitable shifts in your space.
SHORT VIDEO
'THESIS-DRIVEN'
Anyone chasing a big idea has a deep belief that they have figured out 'where the puck will be'… said differently, they have a 'thesis' on how the forces of disruption are unfolding (and they are placing a big bet on that thesis). In our experience, it's critical to constantly stress-test the underlying assumptions and constantly build stakeholder alignment around the evolving thesis. STRATPATH helps in every way (shed noise, hone the thinking, build alignment, reduce friction, and improve organizational agility)
… it is in a word 'transformative'.
SHORT VIDEO
ALIGNMENT OBSESSED
It's not enough to perfect a thesis and strategy on your own... transformative leader's build stakeholder alignment to remove friction and accelerate execution. STRATPATH helps accomplish this is by adding a formal/facilitated process to stress-test assumptions and build an agile thesis/strategy so the organization is hard-wired to course-correct fast when needed.